Chinese Knotting: The Plafond Knot (藻井結, 国結び, 안경매듭)
---
[ Overhand Knots ] [ Generalities ][ Nomenclature ][ Similar Knots ][ How To ] [ Home ][ Books ][ Links ][ Supplies][ Glossary ][ Blog ][ About ]
---
A knot without ears, there is very little room here for elaboration or variation. Certainly there are no traditional ones although, Chinese Knotting 3 has a long and horizontal variation on the plafond but I've got to say they're more of a thought experiment than anything particularly exciting.
---
The Plafond or Caisson Ceiling Knot is named after an architectural feature also known as a sunken panel roof. Plafond is ceiling in French. As for caisson, I checked the translation of the Chinese name, my dictionary and a search of the Internet on architectural terms combine to tell the story that this knot was named for this particular ceiling panel style and there's no zippier translation that does not depart from the intended meaning of the original name.

Unusually, there seems to be no relationship at all between the Chinese, Japanese and Korean names for the knot, nor any immediately obvious reason for the Korean and Japanese names (was "国" chosen as a pictograph rather than a word based on the meaning or was this the first knot named "Chinese" and "国" an abbreviation of "中国" (China, simplified)? Just to see what kind of results I would get, I searched for "國結び" ("國" being the unsimplified version of "国") and got nothing but results for "国結び"). Spectacles also have very little to do with countries or ceilings. Knowing that the Korean name is also sometimes translated as "glasses" helps not at all.

Chen 1: Plafond Knot (藻井結, simplified: 藻井结) [ㄗㄠˇ ㄐㄧㄥˇ ㄐㄧㄝˊ, zǎojǐng jié]
TAoCaWK: Caisson Ceiling Knot
Ruri-Ishikawa: 藻井結(国結び)(くに むすび) [kuni musubi] country (nation) knot
Korean: Spectacles Knot (안경매듭) [an-gyeong-mae-deup]
French: lunette noeud
Ashley: #807 two-strand Chinese lanyard knot (description, not name)
CBoDK: Chinese Lanyard Knot

---
---
1.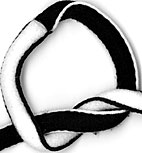 step 1:
starting at the middle, make a simple knot (++)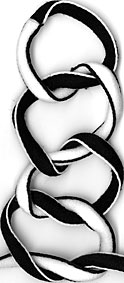 step 2:
taking careful note of the alignment of your first knot, repeat 3 more times for a total of 4 simple knots in a row.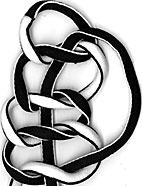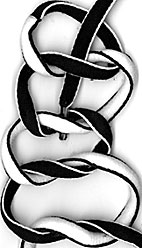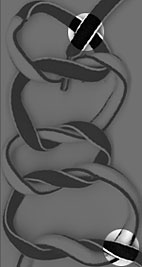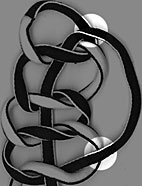 step 3:
bring the right hand side (RHS) cord end from the bottom to the top of the knot and through the centres of all the simple knots tied in the previous step. Note which side (front or back) of the knot the RHS cord coming from the bottom simple knot is on. (++)
In this case it is the front, so bring your RHS cord end to the front of the top loop of your knot. Then the working end goes down through the centre of the top simple knot. (++)
Then down through the centre of the second simple knot. (++)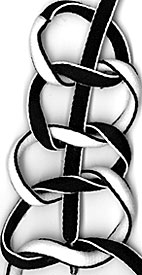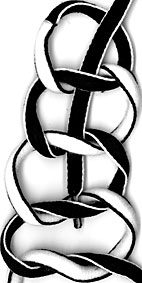 Continue down through the centre of the third simple knot
And then down through the centre of the last simple knot back where we started this step (++)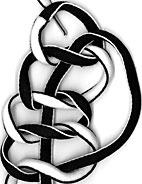 step 4:
Do the same with the left hand side (LHS) cord, the LHS and RHS cords will be going through the exact same place through the centre of each of the four simple knots. Then remove most of the slack from both sides (++)
remember to note which side of the front or back of the knot that the LHS cord emerges on from the bottom simple knot (in this case the back) and bring your LHS cord to the back of your top loop. (++)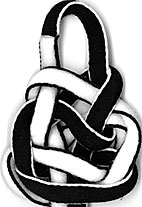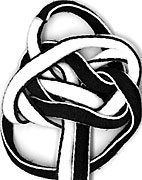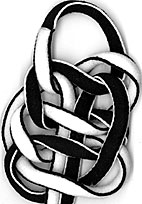 step 5:
Take the loops from the bottom simple knot and move them to the top of the main body of the knot taking care not to pass over top (middle) loop.(++)
firstly carefully remove slack without distorting the knot and don't let the middle loop get lost in the body of the knot.(++)
move the bottom front loop to the front and top of the mass of the knot(++)
move the bottom back loop to the back and top of the mass of the knot. Mind the top (middle) loop and take up slack. (++)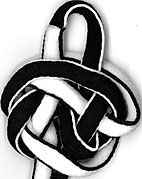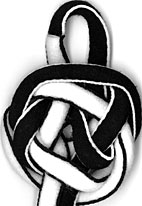 step 6:
Once more, take the loops from the (new) bottom simple knot and move them to the top of the main body of the knot taking care not to pass over top (middle) loop.(++)
move the bottom front loop to the front and top of the mass of the knot (++)
then move the bottom back loop to the back and top of the mass of the knot. Mind the top (middle) loop, take up slack and you are done tying. (++)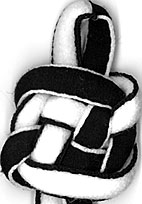 Finished Plafond Knot:
tighten and adjust, you are done. (++)

---
CLW
Creation Date: Thu Jun 6 17:32:42 PDT 2002
Last Modified: Saturday, 02-Oct-2010 07:16:19 UTC
Page accessed at local time: Wednesday, 06-Dec-2023 13:36:15 UTC